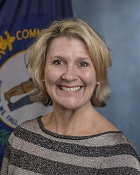 Jessica Cunningham, Ph.D.
Interim Executive Director
Dr. Cunningham began working as a research analyst with KYSTATS in 2015. Dr. Cunningham holds her bachelor of science degree from Georgetown College and master's degree in mathematics followed by her doctorate in educational policy studies and evaluation from the University of Kentucky with an emphasis in educational measurement and statistics. Prior to joining KYSTATS, Dr. Cunningham served as a faculty member teaching graduate education courses in research methods, statistics, program evaluation, and classroom assessment. Dr. Cunningham also served as an evaluator over the past eight years on numerous state and federal grants across multiple disciplines in North Carolina and Kentucky. Being a Kentucky native, Dr. Cunningham brings her passion for education in Kentucky and experience in developing and disseminating research to a variety of audiences.